Venus presented study results on the company's ARB approach at the 2017 ASM/ESCMID Conference on Drug Development to meet the Challenge of Antimicrobial Resistance. The poster presentation, titled "Antimicrobial Resistance in India - Genotypic Characterization and Exploring the Role of EDTA as an Antibiotic Resistance Breaker" was presented by Dr. Manu Chaudhary, Joint Managing Director cum Director Research, on September 6, 2017, in Boston, MA.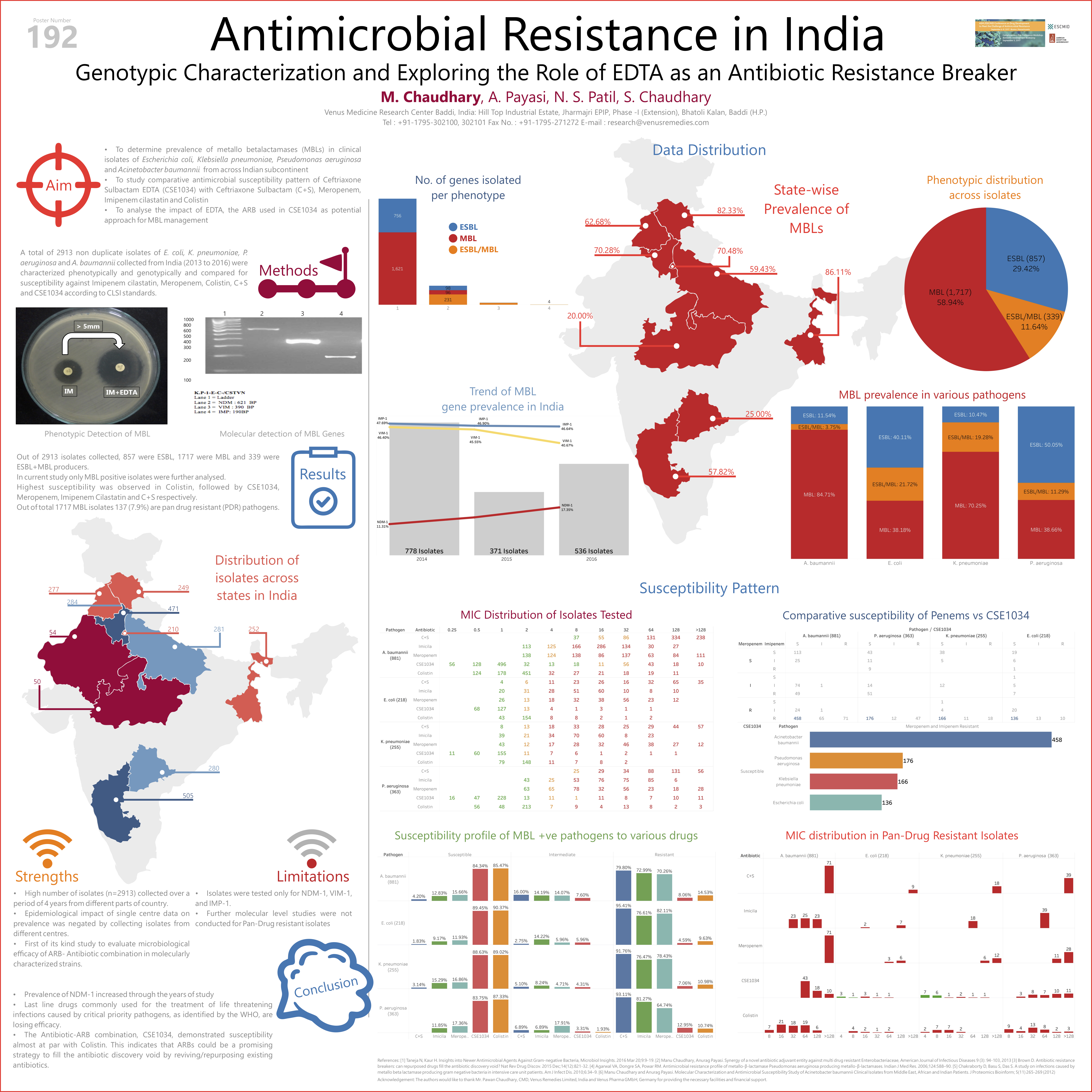 Venus poster at Boston
The poster includes data based on Emerging Antimicrobial Resistance Society (EARS) Indian surveillance from 2013 to 2016. A total of 2883 isolates of Escherichia coli, Klebsiella pneumoniae, Pseudomonas aeruginosa and Acinetobacter baumannii were collected and susceptibilities studies were carried out for Imipenem+Cilastatin, Meropenem, Colistin, Ceftriaxone+Sulbactam, and Ceftriaxone+Sulbactam+EDTA according to CLSI guidelines. Further, these isolates were assessed for the presence of common carbapenemase genes using PCR.
Results of the study showed that the out of 2883 isolates, 856 isolates harbored ESBL genes, 1717 isolates had MBL genes, and 310 isolates were co-producers of both ESBL+MBL genes. For this susceptibility study, only MBL producing isolates (A. baumannii (n=881), P. aeruginosa (n=363), K. pneumoniae (n=255) and E. coli (n=218)) were analyzed. Of these 1717 isolates, 49 (2.85%), 215 (12.52%), 270 (15.73%), 1468 (85.50%) and 1494 (87.01%) were susceptible to Ceftriaxone+Sulbactam, Imipenem+Cliastatin, Meropenem, Ceftriaxone+Sulbactam+EDTA and Colistin respectively. Poster presentation concluded that in the light of rising resistance to last resort antibiotics, dried antibiotic pipelines, toxicology concerns associated with the use of Polymyxins and high development costs associated with new antibiotic drug discovery, metal ion chelators like EDTA provide promising results in repurposing/reviving existing antibiotics by acting as Antibiotic Resistance Breakers.
Venus is encouraged by the development data for CSE-1034, the world's first Antibiotic Adjuvant Entity (AAE) consisting of a beta-lactam antibiotic (Ceftriaxone)+ beta-lactamase inhibitor (Sulbactam) and an Antibiotic Resistance Breaker (EDTA) active against ESBL- and MBL- producing gram-negative bacteria. The final leg of the development program is currently underway and the company expects to file an NDA in Europe by the end of 2018.